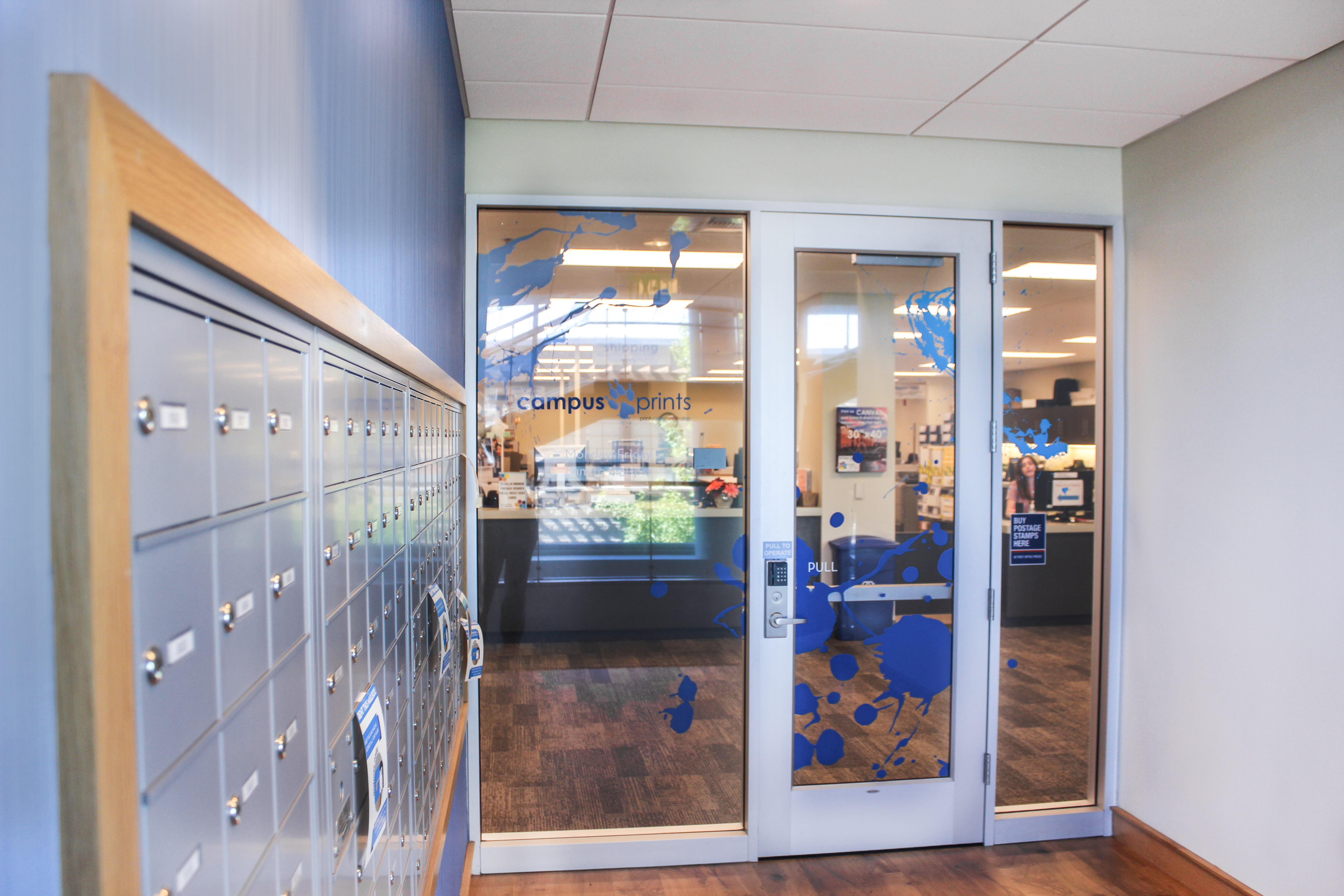 Did you know that Campus Prints has private mailboxes available for rent? Students, staff and faculty can now use the same address for their entire career at Sonoma State University! There is also no more hassle of having to change your address each time you move. The benefits of renting a mailbox on campus: 
Renting an on-campus mailbox provides you with one convenient place for all of your mail and packages, year-round. 
Receive email notification when your packages arrive and are ready for pickup.
Mailboxes are accessible during building operational hours. (link to SC hours)
Package pickup is available Monday through Friday, 8:00 a.m. to 4:30 p.m. (excluding holidays) 
$40 for 3 months | $60 for 6 months | $90 for 1 year 
Please review the Rental Contract for Rules and Regulations. Mailbox Rental Contracts must be signed and turned in at Campus Prints on the second floor of the Student Center.
FAQs
How do I sign up?
Fill out the Mailbox Rental Contract and the Post Office Form 1583, which is located on the Mailbox Rental page. Bring the completed forms into Campus Prints on the 2nd floor of the Student Center.
How much is a mailbox to rent?
$40 for 3 months | $60 for 6 months | $90 for 1 year
What is the cost difference from signing up for an on campus private mail box compared to a PO Box?
We will accept packages from all other carriers, unlike the Post Office Boxes and we are located conveniently on campus, which is why our costs are a little higher than a standard PO Box.
How often do you box mail?
Mail will be boxed Monday through Friday by 2:00pm except for campus closure days.
What type of mailbox is available?
We offer one type of mailbox, size: 6 ½ W x 5 ¼ H x 16 D.
Can you share a mailbox? If so, how does this work?
Each mailbox can only be shared by a spouse, or corporation in which all partners in the corporation would need to fill out the PS 1583 form separately.
When can I pick up mail?
Mail is available for pick up during normal Student Center business hours of operation: Monday through Friday from 7:00am to 12:00am and Saturday through Sunday from 9:00am to 12:00am.
Can I receive packages?
Package pickup is available Monday through Friday, 8:00 a.m. to 4:30 p.m. (excluding holidays). You may receive packages from any mail carrier.
When can I start receiving mail in my mailbox?
You can start receiving mail from your mailbox the day after all forms have been completed and payment has been made.
Do I get to pick my own box number or is it assigned?
All box numbers are assigned unless there is an accessibility need.
What if I want to change my box number after I sign up?
All address change requests will be assessed on a case by case basis.
What happens if I lose my key to my mailbox?
If you lose your key you will need to place another $20 key deposit with Campus Prints and it could take up to 3 business days for a new key to be made.
What is my address?
Box Holder's Name
1913 E. Cotati Ave #5XXX 
Rohnert Park, CA 94928
How long can I keep my mailbox?
As long as you renew your contract at the end of each semester you may continue renting indefinitely.
Can I get a refund if I do not want to continue my mail box rental?
All rentals are final, there will be no refunds under any circumstances including expulsion, end of employment, retirement, or disenrollment. We suggest a shorter contract length if you expect any of these issues to arise.